The Master of Professional Studies in Geospatial Intelligence (MPS GEOINT) program provides workforce-focused technical training that gives graduates the skills and expertise to lead new initiatives in the rapidly shifting landscape of GEOINT applications, data collection systems, analytic methods, and mission support. 
The MPS GEOINT program encompasses a 30-credit (10 units of 3-credit courses) course structure comprised of five core courses and five elective courses that can be taken on a flexible schedule. The MPS GEOINT degree can be completed in as little as 15 months for full-time registrants.
The CGIS also offers a Graduate (Post-Baccalaureate) Certificate in Professional Studies in Geospatial Intelligence (GCPS GEOINT) that is based on 15 credits of 5 courses. The credits earned from a GCPS GEOINT can be transferred towards the MPS GEOINT.
Either program may be taken on a full-time or part-time basis, and may be taken online or on-site. Courses are offered during evenings and are scheduled in 12-week quarter terms.
The application deadline for admission in
Spring 2019 is February 15, 2019
. 
MPS GEOINT is currently accepting international applications for Fall 2019, and the deadline for international applications is March 15, 2019.
For more details or inquiries, please contact our Director of Programs Dr. Ruibo Han at geog-geoint [at] umd.edu.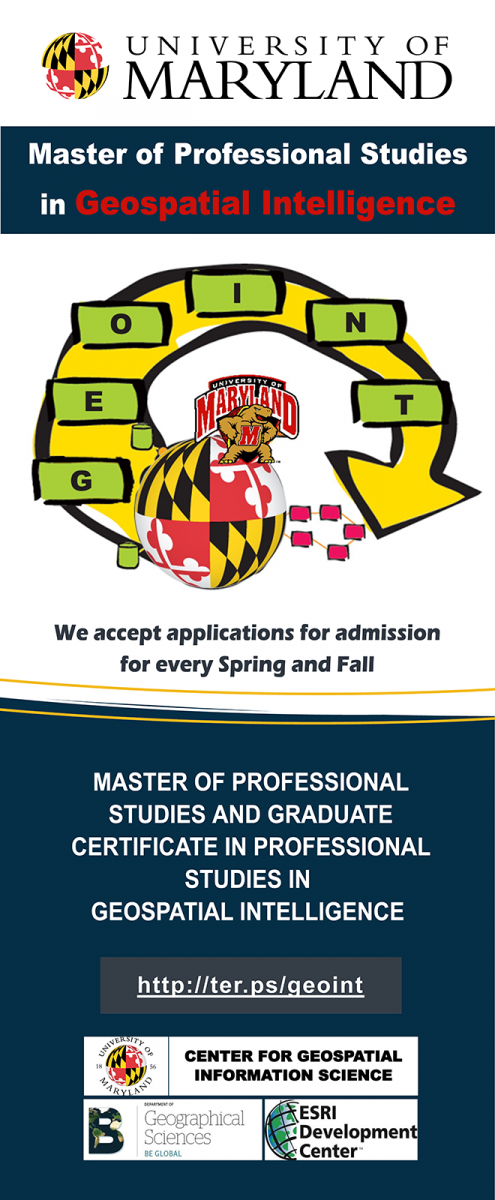 Last modified
01/18/2019 - 10:10 am