Course List
The MPS GEOINT program encompasses a 30-credit (10 units of 3-credit courses) course structure comprising five core courses and a selection of five courses among electives. The GCPS GEOINT program entails 12 credits from four courses (two core and two elective courses). The GCPS GEOINT is considered a subset of the MPS GEOINT: the credits earned from a GCPS GEOINT can be transferred towards the MPS GEOINT.
Courses offered in MPS and GCPS GEOINT expose students to material far beyond the existing offerings in geospatial information sciences (GIS) at UMD, and they cater to an entirely new population seeking employment and skills in the intelligence industry. MPS and GCPS GEOINT provide us some "cover" at the higher end of the geospatial intelligence job market and specifically help UMD to distinguish itself from a growing cohort of university programs that are offering basic software-oriented GIS courses at the lower-end of the market.
Courses are delivered in a hybrid format: Instructors present lectures and lead discussions tangibly in a classroom setting, while also streaming the lectures Online. Students that can attend in person may do so, while those that require access remotely can also participate (via Adobe Connect). Similarly, laboratory sessions may be attended tangibly, or students may access instruction remotely using video conferencing and virtual machine access to our software and data at UMD. International students, however, are limited in the way of taking classes. According to F-1 Visa regulations by the United States Citizenship and Immigration Services (UCSIS), only one "online" or "distance education" course per semester can be counted toward the student's full course of study per academic period, and all other coursework must be delivered in a "contact" classroom (we are currently unable to accept international applications.)
Courses are scheduled in evenings (e.g. 5:30 pm - 8 pm) to accommodate working professionals. 
The MPS and GCPS in GEOINT consist of the following courses: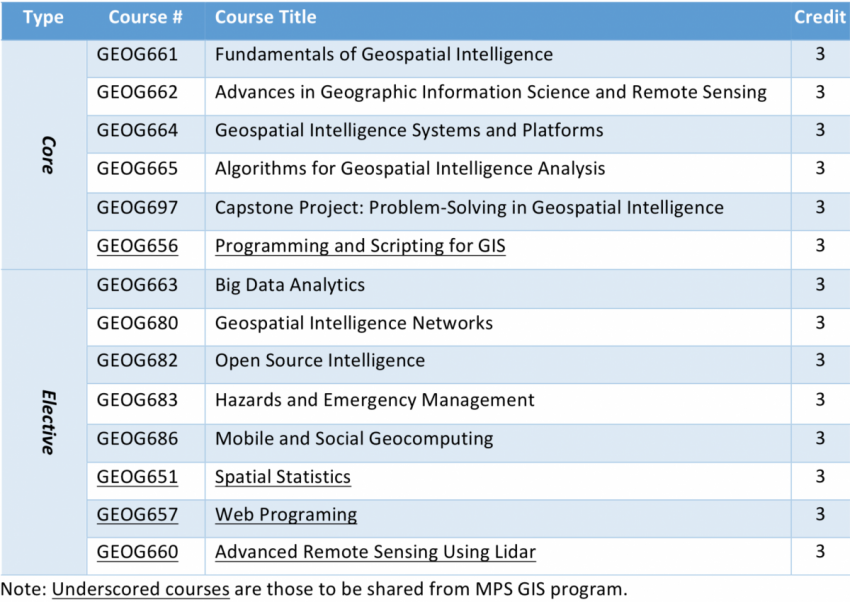 *Courses are subject to updates with the emergence of new technologies in GEOINT industry.
Courses offered in GEOINT programs are also available for non-degree seekers. For more information on how to register as non-degree seeking students, please visit non-degree-admissions. Non-degree seeking students may transfer up to 9 credits to an MPS or Graduate Certificate program.